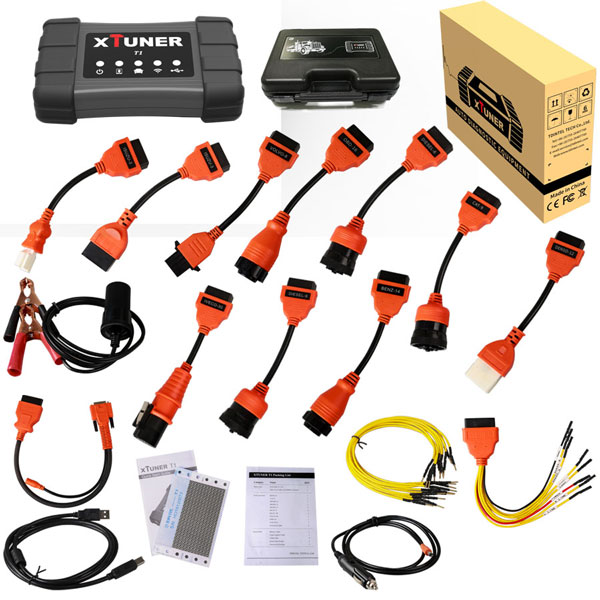 XTUNER T1 Trucks Diagnostic Tool
Top 5 Reasons to Get XTUNER T1 Heavy Duty Trucks Auto Intelligent Diagnostic Tool
1. Supports WIFI & USB connection, Windows XP ,7,8,10
2. Wide coverage for heavy-duty trucks,work on almost all trucks till year 2015. With lots of special function
3. Supports standard protocol J1939, J1708 and J1587.
4. Both Hardware & Software can be upgraded, software is free online for 1 year on www.tdintel.com,begins from the date of product activation.
5. More stable performances, better compatibility and expandability.
XTUNER T1 product display
XTUNER T1 Truck Diagnostic Tool Specification
¡ñ Complete function capability including DTC, DTC freeze Info, Live data, Actuation test and Special function.
¡ñ Supplies OBDII and other 10 connector.
¡ñ Hardware architecture uses a new design with multiple protection, interference and stability.
¡ñ Built-in overvoltage protection module is applied, to protect VCI and vehicle against accidental damage during checking.
¡ñ Works well and stably in high and low temperature environment.
¡ñ Extremely easy-to-use with touch-screen operation and intuitive operation in the windows.

XTUNER T1 Heavy Duty Scanner Language: English (more languages will be added in the future)

XTUNER T1 Heavy Duty Truck Scanner Function:
Read ECU Info, Read DTCs, Erase DTCs, Clear learning value, Data Stream, Actuations, Read freeze frame data, Read/Write VIN, Basic Reset, Control unit adaptations, Air bleeding, Level calibration, Oil change, Idle speed learning, Idle speed Adjustment, Camshaft timing control learning, Broken cylinder test, Dpr Manual Forced Regeneration, Injector Codes, etc.

XTUNER T1 Scanner Special Functions:
DPF Reset, Nozzle Or Injector, Fuel Pump, Exhaust Pressure Adjustment, EGR, ECM, Vehicle Speed CONTROL, Cylinder, VIN, Write Engine Serial Number, Turbo Control

Xtuner T1 Heavy-Duty Truck Diagnostic Tool Vehicle List/Coverage:
ALLISON, ASTRA, BENZ, BREMACH, CATERPILLAR DAF, DETROIT, ERF, FOTON, FREIGHTLINER, FUSO, HINO, HYUNDAI, INTERNATIONAL, ISUZU, IVECO, KENWORTH, KIA, MACK, MAN, MaxxForce, NAVISTAR, RENAULT, SCANIA, TOYOTA, UD, VOLVO, WABCO
Xtuner T1 Truck Diagnostic Tool Detail Vehicle List Download
Electronic Control System: BENDIX, CUMMINS
Standard OBD: Diesel OBD
Xtuner-t1-vehicle-list
XTUNER T1 Hardware Environment:
Windows laptop, PC or PAD
CPU speed: more than 1.0G Hz
Memory: more than 1GB
Disk: more than 32 GB
Operating System Windows XP/7/8/10
Processor ARM 32-bit Cortex processor
Communications 802.11 b/g Wireless LAN
Input Voltage DC 8-28V
Operating Temperature -10 to 70 ¡ãC?14-158¡ãF?,Relative Humidity:<90%
Storage Temperature -30 to 120¡ãC?-22 to 248¡ãF?,Relative Humidity:<90%
Communication model Wi-Fi or USB
Protocols UDS,ISO 9141-2, K/L lines, SAE-J1850 VPW,SAE-J1850 PWM,CAN ISO 11898 ISO 15765-4?High speed, Middle speed ,low speed and Single wire CAN,SAE-J1939,SAE-J1708,SAE-J1587
XTUNER T1 truck scanner details
XTUNER T1 Package List:
1PC x XTUNER T1 VCI
1PC x Main Test Cable with OBDII connector
1PC x BENS-14 Connector
1PC x CAT-9 Connector
1PC x DENSO-12 Connector
1PC x DIESEL-6 Connector
1PC x DIESEL-9 Connector
1PC x ISUZU-3 Connector
1PC x ISUZU-20 Connector
1PC x IVECO-30 Connector
1PC x OBD-16 Connector
1PC x VOLVO-8 Connector
1PC x Universal Cable
1PC x Battery Cable
1PC x Cigar Lighter Cable
1PC x USB Cable
1PC x Quick Start Guide
1PC x Password Envelope