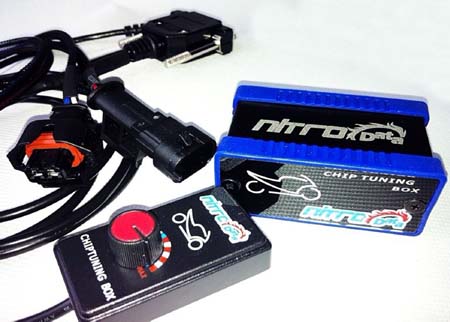 NitroData [Chip Tuning Box] for Motorbikers
The NitroData is a power box for bikes, with box you can get more power & torque for your bike.
To fit the NitroData you will need to locate the air temperature sensor (IAT) which is located near the air box on most bikes.
Disconnect the plug connectors which are already attached to the IAT and attach the plug connectors of the NitroData module to the relevant connector of the IAT. The NitroData is now ready to use.
or behind the dashboard/front headlight on Ducati bikes your user manual for the location or contact your reseller or DM (please either check your user manual for the location).
As some motorcycles run richer and others are leaner, we suggest that you start by using the NitroData with the dial set to minimum and gradually increase the dial to a higher until you find the setting which is best for your bike A slightly modified engine (sport exhaust,air filter etc.)will generally have a better performance with the dial set around midle if the bike has an aftermarket
exhaust system fitted. A setting between midle and midle more can be used when the catalytic converter has been removed.The original standard performance is to be found at minimum setting on control unit.
If the bike running richer then the setting will probably need to be set between litle then minimum. You will feel from the performance of the motorcycle when the engine is running smoothly and it is not necessary to run a Dyno test. Please avoid falling into the trap of thinking the higher the maximum the better the performance as it will vary depending on the bike. If it appears that you are losing the torque when you hit high speeds this most probably means that you have set the NitroData number too high and need to try a lower setting.
This is another reason why ití»s better to start with a low setting and to gradually turn the dial to a maxmimum setting.
Please have look to list and couse your biker what box need:
Aprilia
Aprilia Atlantic 400 _ BoX M-3
Aprilia Atlantic 500 _ BoX M-3
Aprilia ETV Caponord 1000 01-08 _ BoX M-3
Aprilia Dorsoduro 08-10 _ BoX M-6
Aprilia Falco 00-10 _ BoX M11
Aprilia Futura 00-02 _ BoX M-3
Aprilia Mana 09-10 _ BoX M-3
Aprilia RXV 450 06-09 _ BoX M-9
Aprilia RXV 550 06-09 _ BoX M-9
Aprilia Pegaso 05-04 _ BoX M-3
Aprilia Pegaso 660 01-08 _ BoX M-10
Aprilia RSV 1000 98-03 _ BoX M11
Aprilia RSV 1000 / Tuono 04-08 _ BoX M-2
Aprilia RSV 1000 SP / Tuono 99-00 _ BoX M11
Aprilia RSV 1000R / Tuono 05- _ BoX M11
Aprilia RSV 1000R Factory 04-08 _ BoX M-2
Aprilia RSV 4 09-10 _ BoX M-6
Aprilia RSV R 05- _ BoX M11
Aprilia RXV 06-10 _ BoX M-9
Aprilia RXV-SXV 450 06-10 _ BoX M-9
Aprilia RXV-SXV 550 06-10 _ BoX M-9
Aprilia Scarabeo 500 IE _ BoX M-3
Aprilia Shiver 08-10 _ BoX M-6
Aprilia SXV 06-10 _ BoX M-9
Aprilia Tuono / Tuono 02-05 _ BoX M11
Aprilia Tuono 1000 / Tuono 04-08 _ BoX M-2
Benelli
Benelli TNT 1130 _ BoX M-3
Benelli TNT 899 _ BoX M-3
Benelli Tornado 900 _ BoX M-3
Benelli Tornado TRE 07- _ BoX M-3
Benelli TRE 1130 K _ BoX M-3
Bmw
Bmw F 650 CS _ BoX M-3
Bmw F 650 GS / Dakar _ BoX M-3
Bmw F 650 ST _ BoX M-3
Bmw F 800 GS _ BoX M-3
Bmw F 800 ST _ BoX M-3
Bmw G 650 X Country _ BoX M-3
Bmw G 650 X Moto _ BoX M-3
Bmw G 650 X Challenge _ BoX M-3
Bmw HP2 _ BoX M-3
Bmw HP2 Sport _ BoX M-3
Bmw K 1100 LT _ BoX M-3
Bmw K 1200 GT _ BoX M-3
Bmw K 1200 LT _ BoX M-3
Bmw K 1200 R _ BoX M-3
Bmw K 1200 RS _ BoX M-3
Bmw K 1200 S _ BoX M-3
Bmw Megamoto _ BoX M-3
Bmw R 1100 GS _ BoX M-3
Bmw R 1100 R _ BoX M-3
Bmw R 1100 RS _ BoX M-3
Bmw R 1100 RT _ BoX M-3
Bmw R 1100 S _ BoX M-3
Bmw R 1150 GS _ BoX M-3
Bmw R 1150 R _ BoX M-3
Bmw R 1150 R - RT _ BoX M-3
Bmw R 1150 RS _ BoX M-3
Bmw R 1150 RT _ BoX M-3
Bmw R 1200 C _ BoX M-3
Bmw R 1200 GS _ BoX M-3
Bmw R 1200 R _ BoX M-3
Bmw R 1200 RS _ BoX M-3
Bmw R 1200 RT _ BoX M-3
Bmw R 1200 S _ BoX M-3
Bmw R 850 GS _ BoX M-3
Bmw R 850 R _ BoX M-3
Bmw R 850 RT _ BoX M-3
Bmw S 1000 RR _ BoX M-3
Bonbardier
Bonbardier Outlander 400 _ BoX M-1
Bonbardier Outlander 500 _ BoX M-1
Bonbardier Outlander 650 _ BoX M-1
Bonbardier Outlender 800 _ BoX M-1
Buell
Buell 1125 R / CR _ BoX M11
Buell S1 _ BoX M11
Buell S2 _ BoX M11
Buell S3 _ BoX M11
Buell X1 _ BoX M11
Buell XB1 _ BoX M11
Buell XB12 S / SS / CG _ BoX M11
Buell XB12 X / XT _ BoX M11
Buell XB9 S _ BoX M11
Cabiva
Cabiva Navigator _ BoX M11
Cabiva Navigator 1000 _ BoX M11
Cabiva Raptor 1000 _ BoX M11
Cabiva Raptor 1000 - X3 _ BoX M11
Cabiva Raptor 650 IE _ BoX M11
Can Am
Can Am Renegade 500 _ BoX M-1
Can Am Renegade 800 _ BoX M-1
Ducati
Ducati 1098 _ BoX M-6
Ducati 1098 R _ BoX M-6
Ducati 1098 S _ BoX M-6
Ducati 1198 _ BoX M-6
Ducati 1198 R _ BoX M-6
Ducati 1198 S _ BoX M-6
Ducati 620 Sport _ BoX M-6
Ducati 748-S-R-A-SPS-R-Racing-BIP _ BoX M-6
Ducati 749-S-R-A-SPS-R-Racing-BIP _ BoX M-6
Ducati 848 _ BoX M-6
Ducati 916 _ BoX M-6
Ducati 996-SPS-S-RS-Racing-SP-Biposto _ BoX M-6
Ducati 998-RS _ BoX M-6
Ducati 998-S-R-Matrix _ BoX M-7
Ducati 999-S-R-RS _ BoX M-6
Ducati Desmosedici _ BoX M-6
Ducati GT 1000 _ BoX M-1
Ducati GT 1000 10- _ BoX M-1
Ducati Hypermotard EVO/SP 1100 _ BoX M-6
Ducati Hypermotard S 1100 _ BoX M-1
Ducati Hypermotard S 796 _ BoX M-6
Ducati MH Evoluzione _ BoX M-6
Ducati MH Evoluzione 900 _ BoX M-6
Ducati Monster 1000 _ BoX M-7
Ducati Monster 400 _ BoX M-7
Ducati Monster 620 _ BoX M-7
Ducati Monster 695 _ BoX M-1
Ducati Monster 696 _ BoX M-6
Ducati Monster 750 IE _ BoX M-7
Ducati Monster 800 _ BoX M-7
Ducati Monster 900 IE _ BoX M-6
Ducati Monster S1000 _ BoX M-7
Ducati Monster S2R 1000 _ BoX M-7
Ducati Monster S2R 1000DS _ BoX M-7
Ducati Monster S2R 800 _ BoX M-1
Ducati Monster S4 _ BoX M-7
Ducati Monster S4R _ BoX M-1
Ducati Monster S4RS _ BoX M-1
Ducati Multistrada 1100-1000 _ BoX M-6
Ducati Multistrada 1100-1100S _ BoX M-6
Ducati Multistrada 1200 _ BoX M-9
Ducati Multistrada 620 _ BoX M-6
Ducati Multistrada DS1000 _ BoX M-6
Ducati Paul Smart _ BoX M-7
Ducati S 2R 800 NO _ BoX M-7
Ducati Sport 1000 _ BoX M-7
Ducati Sport 1000 S _ BoX M-1
Ducati Sport 750 _ BoX M-6
Ducati Sport 800 _ BoX M-7
Ducati Sport 900 _ BoX M-6
Ducati ST2 _ BoX M-6
Ducati ST3 1000 _ BoX M-6
Ducati ST4 S-ABS _ BoX M-7
Ducati Street Fighter _ BoX M-6
Ducati Super Sport 800 _ BoX M-7
Ducati Super Sport 1000 _ BoX M-7
Ducati Super Sport 750 IE _ BoX M-6
Ducati Super Sport 900 IE _ BoX M-6
Gas Gas
Gas Gas EC / SM 450 / 515 _ BoX M-6
Gas Gas FSE / R 400 / 450 _ BoX M-6
Gas Gas FSR EC / SM _ BoX M-6
Gas Gas WILD HP _ BoX M-6
Gilera
Gilera GP 800 10- _ BoX M-3
Gilera Hexus 500 IE _ BoX M-3
Harley Davidson
Harley Davidson 883 _ BoX M-1
Harley Davidson DYNA 1450 Injection _ BoX M-6
Harley Davidson DYNA 1480 Injection _ BoX M-6
Harley Davidson EVO 1340 Injection _ BoX M-6
Harley Davidson FLHR Road King _ BoX M-6
Harley Davidson FLHRC Road King Classic _ BoX M-6
Harley Davidson FLHT Electra Glide _ BoX M-6
Harley Davidson FLHTCU Ultra Classic _ BoX M-6
Harley Davidson FLHX Street Glide _ BoX M-6
Harley Davidson FLSTC Haritage Softail _ BoX M-6
Harley Davidson FLSTF FAT BOY _ BoX M-6
Harley Davidson FLSTSB Sostai Cross Bones _ BoX M-6
Harley Davidson FXCW Sotfail Rocker _ BoX M-6
Harley Davidson FXCWC Sostai Rocket C _ BoX M-6
Harley Davidson FXDB Dyna Street BOB _ BoX M-6
Harley Davidson FXDC Dyna Super Glide _ BoX M-6
Harley Davidson FXDF Dyna FAT BOB _ BoX M-6
Harley Davidson FXSTB Night Train _ BoX M-6
Harley Davidson FXSTC Softail _ BoX M-6
Harley Davidson Night Rod Special _ BoX M-3
Harley Davidson Softail 1450 Injection _ BoX M-6
Harley Davidson Softail 1580 Injection _ BoX M-6
Harley Davidson Touring Twin Cam 1450 _ BoX M-6
Harley Davidson Touring Twin Cam 1584 _ BoX M-6
Harley Davidson Twin Cam 1450 Injection _ BoX M-6
Harley Davidson V-ROD _ BoX M-3
Harley Davidson V-ROD 1130 _ BoX M-3
Harley Davidson V-ROD 1250 _ BoX M-3
Harley Davidson V-ROD Muscle _ BoX M-3
Harley Davidson XL 1200N / L / C _ BoX M-1
Harley Davidson XL 883 / L / C _ BoX M-1
Harley Davidson XR 1200 _ BoX M-1
Harley Davidson XR 1200 Sportster _ BoX M-1
Honda
Honda CB 1000 R _ BoX M-8
Honda CB 1300 S _ BoX M-8
Honda CBF 1000 _ BoX M-8
Honda CBF 600 N _ BoX M-8
Honda CBF 600 S _ BoX M-8
Honda CBR 1000 RR _ BoX M-8
Honda CBR 1100 XX _ BoX M-8
Honda CBR 125 R _ BoX M-8
Honda CBR 600 F Sport _ BoX M-8
Honda CBR 600 F4 I _ BoX M-8
Honda CBR 600 RR _ BoX M-8
Honda CBR 929 RR _ BoX M-8
Honda CBR 954 RR _ BoX M-8
Honda CFR 450 _ BoX M-8
Honda CFR 450/250 _ BoX M-8
Honda Deauville 700 _ BoX M-8
Honda DN-01 _ BoX M-8
Honda Hornet 600 _ BoX M-8
Honda Hornet 600-ABS _ BoX M-8
Honda Hornet 900 _ BoX M-8
Honda Pan Europan 1300 _ BoX M-8
Honda Pan Europan 700 _ BoX M-8
Honda Rancher _ BoX M-8
Honda RC 45 _ BoX M-8
Honda Silver Wing 400 _ BoX M-8
Honda Silver Wing 600 _ BoX M-8
Honda Transalp 700 _ BoX M-8
Honda TRX 450 XX _ BoX M-8
Honda TRX 680 Rincon _ BoX M-8
Honda TRX 700 XX _ BoX M-8
Honda Varadero 125 _ BoX M-8
Honda Varadero XL1000V _ BoX M-8
Honda VFR 1200 F _ BoX M-8
Honda VFR 800 _ BoX M-8
Honda VFR 800 V-Tec _ BoX M-8
Honda VTR 1000 SP1 _ BoX M-8
Honda VTR 1000 SP2 _ BoX M-8
Honda VTX 1800 C _ BoX M-8
Honda VTX 1800 Retro _ BoX M-8
Honda VTX 1800 Retro - Neo _ BoX M-8
Honda X11 _ BoX M-8
Hyosung
Hyosung Aquila 650 07-09 _ BoX M-9
Hyosung Aquila GV 250 08-09 _ BoX M-1
Hyosung Comet GT 250 07-08 _ BoX M-1
Hyosung Comet GT 250R 07-08 _ BoX M-1
Hyosung Comet GT 650 _ BoX M-9
Hyosung Comet GT 650R _ BoX M-9
Hyosung MS3 125 07-08 _ BoX M-1
Hyosung MS3 250 07-08 _ BoX M-1
Kawasaki
Kawasaki 636 03-06 _ BoX M-10
Kawasaki ER6 F _ BoX M-9
Kawasaki ER6 N 06-10 _ BoX M-9
Kawasaki GTR 1400 08-10 _ BoX M-10
Kawasaki KFX / R 450 08-10 _ BoX M-9
Kawasaki KLE Versis 07-10 _ BoX M-9
Kawasaki KLV 1000 _ BoX -5
Kawasaki KLX 125 _ BoX M-9
Kawasaki KLX 250 09-10 _ BoX M-9
Kawasaki KVF Brute Force 08-10 _ BoX M-9
Kawasaki KVF 450 09-10 _ BoX M-8
Kawasaki Mean Streak _ BoX M-5
Kawasaki Mean Streak 1600 _ BoX M-5
Kawasaki Ninja 250 08-10 _ BoX M-9
Kawasaki Nomad 1600 _ BoX M-5
Kawasaki VN 1500 Drifter _ BoX M-5
Kawasaki VN 1500 Nomad _ BoX M-5
Kawasaki VN 1500 Vulcan Classic _ BoX M-5
Kawasaki VN 1600 99-07 _ BoX M-5
Kawasaki VN 1700 10- _ BoX M-9
Kawasaki VN 2000 08- _ BoX M-9
Kawasaki VN 2000 04-06 _ BoX M-10
Kawasaki VN 2000 09-10 _ BoX M-9
Kawasaki VN 900 06-09 _ BoX M-9
Kawasaki Vulcan 2000 _ BoX M-5
Kawasaki Vulcan 900 _ BoX M-5
Kawasaki Z1000 03-10 _ BoX M-10
Kawasaki Z1000 10-11 _ BoX M-9
Kawasaki Z750 04-10 _ BoX M-10
Kawasaki Z750S Semicarenata _ BoX M-10
Kawasaki ZX 10 R 04-07 _ BoX M-10
Kawasaki ZX 10 R 08-10 _ BoX M-9
Kawasaki ZX 12 R 00-06 _ BoX M-4
Kawasaki ZX 6R 03-06 _ BoX M-10
Kawasaki ZX 6R 09-10 _ BoX M-9
Kawasaki ZX 6RR 09-10 _ BoX M-10
Kawasaki ZZR 1400 06-08 _ BoX M-10
KTM
KTM Adventure 990 _ BoX M-8
KTM Adventure 990 S _ BoX M-8
KTM Duke 690 _ BoX M-4
KTM RC8 _ BoX M-8
KTM SM 690 _ BoX M-4
KTM SMC 690 _ BoX M-8
KTM Super Duke 990 _ BoX M-8
KTM Super Moto 990 _ BoX M-8
Malaguti
Malaguti Password EU3 250 07-08 _ BoX M-10
Malaguti Spidermax GT 500 04-06 _ BoX M-3
Moto Guzzi
Moto Guzzi Bellagio _ BoX M-6
Moto Guzzi Breva 1200 _ BoX M-6
Moto Guzzi Breva 750 IE _ BoX M-6
Moto Guzzi California 1100 IE _ BoX M-6
Moto Guzzi Centauro 1000 4V _ BoX M-6
Moto Guzzi Griso _ BoX M-6
Moto Guzzi Nevada IE _ BoX M-6
Moto Guzzi Norge IE _ BoX M-6
Moto Guzzi Quota 1100 _ BoX M-6
Moto Guzzi Quota 1100 ES _ BoX M-6
Moto Guzzi Sport 1100 _ BoX M-6
Moto Guzzi Stelvio _ BoX M-6
Moto Guzzi V11 LE Mans _ BoX M-6
Moto Guzzi V7 IE _ BoX M-6
Moto Morini
Moto Morini 9 1/2 05-08 _ BoX M-1
Moto Morini Corsaro 1200 _ BoX M-1
MV Agusta
MV Agusta Brutale 750 _ BoX M-7
MV Agusta Brutale 910 _ BoX M-7
MV Agusta Brutale 910 R 05-08 _ BoX M-1
MV Agusta Brutale 989 R 1078 RR 08- _ BoX M-1
MV Agusta Brutale 990 R 1090 RR 10- _ BoX M-9
MV Agusta F4 1000 10- _ BoX M-7
M, V Agusta F4 1000 R _ BoX M-7
MV Agusta F4 750 _ BoX M-7
MV Agusta F4 CC 1078 _ BoX M-7
Piaggio
Piaggio Beverly 400 06-07 _ BoX M-3
Piaggio Beverly 500 02-09 _ BoX M-3
Piaggio X EVO 400 07-09 _ BoX M-3
Piaggio X8 400 06-09 _ BoX M-3
Piaggio X9 500 01-02 _ BoX M-3
Piaggio X9 500 Evolution 03-07 _ BoX M-3
Polaris
Polaris DS 450 _ BoX M-1
Polaris MXV IRS 500 _ BoX M-1
Suzuki
Suzuki B King 08-09 _ BoX M-10
Suzuki Burgman 400 03-06 _ BoX M-8
Suzuki Burgman 650 03-10 _ BoX M11
Suzuki GSR 600 06-09 _ BoX M11
Suzuki GSX 1400 07- _ BoX M11
Suzuki GSX R 1000 01-06 _ BoX M11
Suzuki GSX R 1000 07-08 _ BoX M-8
Suzuki GSX R 1000 09-10 _ BoX M-8
Suzuki GSX R 600 01-05 _ BoX M11
Suzuki GSX R 600 06-07 _ BoX M-10
Suzuki GSX R 600 / 750 08-10 _ BoX M-8
Suzuki GSX R 750 06-07 _ BoX M-10
Suzuki GSX R 750 96-05 _ BoX M11
Suzuki Mayabusa 1300 00-07 _ BoX M11
Suzuki Mayabusa 1300 08-10 _ BoX M-8
Suzuki Intruder 1500 05-08 _ BoX M11
Suzuki Intruder C800 01-10 _ BoX M-9
Suzuki Intruder M800 06-10 _ BoX M-10
Suzuki LT-F KingQuad 400 08-10 _ BoX M-10
Suzuki LT-A KingQuad 700 K6 K67 _ BoX M-10
Suzuki LT-A-X KingQuad 750 K8 10- _ BoX M-10
Suzuki LTR QuandRacer 450 06-10 _ BoX M-8
Suzuki Marauder VZ1600 _ BoX M-5
Suzuki RMZ 450 / 250 08-10 _ BoX M-8
Suzuki SFV Gladius 650 09-10 _ BoX M-9
Suzuki SV 1000 03-07 _ BoX M11
Suzuki SV 1000 N _ BoX M11
Suzuki SV 1000 S _ BoX M11
Suzuki SV 650 S / N 03-06 _ BoX M11
Suzuki SV 650 S / N 07-10 _ BoX M-9
Suzuki TL 1000 97-01 _ BoX M11
Suzuki TL 1000 R _ BoX M11
Suzuki TL 1000 S _ BoX M11
Suzuki V Strom 1000 02-09 _ BoX M11
Suzuki V Strom 650 04-06 _ BoX M11
Suzuki V Strom 650 07-10 _ BoX M-9
Suzuki VZ R/N 1800 06-09 _ BoX M11
Sym Moto
Sym Moto Citycom 300 09-10 _ BoX M-9
Sym Moto Joymax euro3 - 250 07- _ BoX M-9
Sym Moto Joymax evo 300 09-10 _ BoX M-9
Triumph
Triumph Bonnevil 08 _ BoX M-9
Triumph Daytona 600 _ BoX M-3
Triumph Daytona 650 _ BoX M-3
Triumph Daytona 675 _ BoX M-3
Triumph Daytona 955I _ BoX M-3
Triumph Roket III _ BoX M-3
Triumph Speed Four _ BoX M-3
Triumph Speed Triple 1050 _ BoX M-3
Triumph Speed Triple 955 _ BoX M-3
Triumph Sprint ST 1050 _ BoX M-3
Triumph Street Triple 675 _ BoX M-3
Triumph Thruxton _ BoX M-9
Triumph Tiger 1050 IE _ BoX M-3
Triumph Tiger 885 IE _ BoX M-3
Triumph Tiger 955 IE _ BoX M-3
Triumph TT600 _ BoX M-3
Yamaha
Yamaha FJR 01-08 _ BoX M-5
Yamaha FJR 1300 _ BoX M-5
Yamaha FZ 8-N 11- _ BoX M-9
Yamaha FZ1 06-10 _ BoX M-9
Yamaha FZ1 Fazer _ BoX M-9
Yamaha FZ1 Naked _ BoX M-9
Yamaha FZ6 Fazer 04-08 _ BoX M-10
Yamaha FZ6 Fazer _ BoX M-10
Yamaha FZ6 Fazer S2 _ BoX M-10
Yamaha FZ6 Fazer S2 ABS _ BoX M-10
Yamaha Majesty 400 04-08 _ BoX M-10
Yamaha MT 01 05-07 _ BoX M-9
Yamaha MT 03 06-08 _ BoX M-10
Yamaha R1 02-03 _ BoX M-5
Yamaha R1 04-06 _ BoX M-10
Yamaha R1 07-10 _ BoX M-9
Yamaha R6 03-05 _ BoX M-10
Yamaha R6 06-10 _ BoX M-9
Yamaha R7 99-00 _ BoX M-5
Yamaha Road Star Warrior _ BoX M-9
Yamaha RX Max 125 06-08 _ BoX M-10
Yamaha RX Max 250 07-08 _ BoX M-10
Yamaha Stratoliner Midnight Star _ BoX M-9
Yamaha T MAX 04-10 _ BoX M-10
Yamaha TDM 900 _ BoX M11
Yamaha V MAX 09-10 _ BoX M-9
Yamaha WR R / X 250 08- _ BoX M-10
Yamaha X-City 125 08- _ BoX M-10
Yamaha X-City 125 07-08 _ BoX M-10
Yamaha XJ 6 S/N / Diverion 09-10 _ BoX M-9
Yamaha XJR 1300 07-09 _ BoX M-9
Yamaha XT 660 X / R _ BoX M-10
Yamaha XT R / X / Z 04-08 _ BoX M-10
Yamaha XTZ Supertenere 1200 10- _ BoX M-9
Yamaha XV 1300 _ BoX M-9
Yamaha XV 1900 06-09 _ BoX M-9
Yamaha XVS 1300 _ BoX M-9
Yamaha XVS 950 09-10 _ BoX M-9
Yamaha XVS A 1300 07-09 _ BoX M-9
Yamaha YFM Grizzly 700 07-09 _ BoX M-9
Yamaha YFM Raptor 700 07-09 _ BoX M-10
Yamaha YFZ 450 R 09- _ BoX M-9
Yamaha YXR RHINO 700 08-09 _ BoX M-9
Yamaha YZF 450 _ BoX M-9