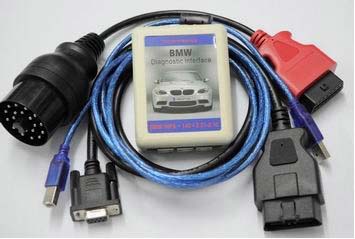 BMW SCANNER 4 IN 1 = BMW DASH /BMW INPA K+CAN /BMW SCNNER 1.40 /BMW SCANNER 2.01
BMW Scanner E6x V2.0.1 is intended to work with BMW 1, 3, 5, 6 and 7 series in "new" chassis.
1.Connecting with all electronic control modules in the vehicle.
2.For all electronic control units reading identification data, sw/hw versions, user information fields.
3.For all electronic control units read and clear error (DTCs) memories - standart, shadow, history memory.
4.Possibility to read/program memory of electronic control units (including CAS modules).
5.odometer correction CAS by OBDII
BMW DASH E6x V2.0 is intended to work with BMW 1, 3, 5, 6 and 7 series in "new" chassis.
for chassis E60/E61(5') E63/E64(6') E65/E66(7') E87(1') E90/E91(3')
Features:
Connecting with all electronic control modules in the vehicle.
For all electronic control units reading identification data, sw/hw versions, user information fields.
For all electronic control units read and clear error (DTCs) memories - standart, shadow, history memory.
Possibility to read/program memory of electronic control units (including CAS modules).
Synchronization DME/DDE and CAS.
Short functions list:
Determination of chassis, model, engine, gearbox and complete set
Searching of all units and reading:
- identification data
- odometer value
- VIN and ADFG
- programming info (UIF)
- errors (DTC)
Reading and saving in files:
- program memory
- EEPROM
- coding data
- amount of DTCs and DTCs shadow-memory
- live data
- programming info (User Info Fields)
Copying ZCS (IKE - EWS) and FA (IKE - LCM) coding
... and other functions in various units
"Unlocked" functions to show possibilities of full version:
DTCs description in DME MS43.0, EWS3, SRS MRS4
Clearing DTCs in same units
EWS-DME synchronization code in DME MS43.0
Live data in DME MS43.0, EWS3, SRS MRS2 and MRS4
Status of all keys in EWS3
EWS3 coding data interpretation
Equipment correction in SRS MRS4
Supported Protocols
1.High-speed D-CAN and PT-CAN (500 kbit/s)
2.Low-speed K-CAN (100 kbit/s)
3.Standard BMW ports (BMW-OBD-interface)
Functions
1.Reading and erasing codes.
2.Live data
3.Component testing
4.Computer programming
5.Adaptation and diagnosing
6.Maintenance procedure explaining
7.Integration of maintenance information
8.Auto-coding and programming of engine, gearbox, airbag, light control computer, engine anti-theft computer etc.
9.Testing some data (i.e. pressure, resistance and current) through the connection with cars. (Optional accessories is needed)
Supported Models
1 Series: E81/E82/E87/E88
3 Series: E30/E36/E46/E90/E91/E92/E93
5 Series: E28/E34/E39/E60/E61
6 Series: E24/E63/E64
7 Series: E23/E32/E38/E65
8 Series: E31
X Series: X3-E83, X5-E53, X5-E70, X5-E71
Z Series: Z1-E30, Z3-E36, Z4-E85/E86, Z5-E52
MINI Series: MINI-R50/R52/R53/R55/R56/R57
Supported Systems
All systems of BMW series and OBD-II diagnostic system, including:
Engine system
Auto Transmission
SRS
ABS
Cruise system
Air-condition system
EWS
LKE
BUS etc.