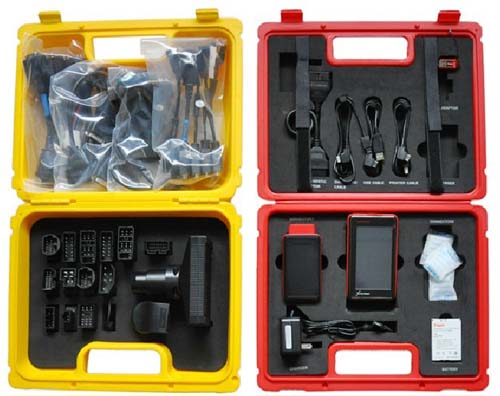 Launch X431 Diagun is a specially designed diagnostic tool for automotive technicians.
Compact main unit, powerful diagnostic functions, fast and convenient update,universal connectors, make it the first choice for technicians.
X431 Diagun is the standard equipment for technicians.
The only one tool launch diagun which can test two vehicle at the same time.
This is a brand new item and comes with 12 months warranty and free update via email or CD.
The Launch Diagun comes from one of the most popular manufacturers of diagnostic equipment in the world - LAUNCH.
The launch diagun is small and easy to use with bluetooth connections via a hub plugged into the vehicle OBD making it extremely mobile.
Two vehicles can be scanned at the same time via the BLUETOOTH connectors suppliedlaunch x431 diagun.
At a lower cost than X-431, everyone in your workshop can have one - no waiting around for people to finish with the only scanner in the workshop - increase your efficiency!
With a 1GB SD memory card it can store extremely large amounts of data.

x431 diagun Product character
1. Compact main unit, Standard equipment for technicians
2. The only diagnostic tool which can work on two vehicles at the same time
3. Bluetooth technology, wireless communication. 100 m bluetooth communication,Cable communication support
4. Universal 16PIN connector
5. Fully inherited diagnostic functions from X-431. Capable of nearly all domestic vehicle makes and Asian, European, American vehicle makes.
6. Greatly improved program running speed
7. More convenient software update
8. 4.3 inch high luminance, high resolution color touch screen
9. 1530mAh Rechargeable battary
10. 1G memory card
11. Standard USB printer connector, external printer support
12. Full after sales service system, life time 1 to 1 service
Language Option:
1.English
2.French
3.German
4.Italian
5.Russian
6.Spanish
7.Portuguese etc.
x431 diagun Product parameter
1.Operating System: WIN CE 5.0
2.CPU: 400 MHz ARM9
3.Memory Card: 1G TF
4.Main Unit: Universal Serial Bus/USB
5.Main Unit Power: DC5V
6.Printer Interface: USB
7.Display Screen: 480X272, 4.3-inch LCD with touch
8.Rechargeable Battery: 1530 mAh
9.Bluetooth: theoretically 100m, actually 15-20m
10.Upgrading Interface: USB
PrintBox for launch X431 Diagun Launch X431 Master Launch X431 Touch Screen